0
⭑⭑⭑⭑
Hiking, Ayurveda-
and wellness hotel
0

kmHiking trails
in the Rhön
0

m2

light-flooded, modern spa
0

haHunting grounds with
own game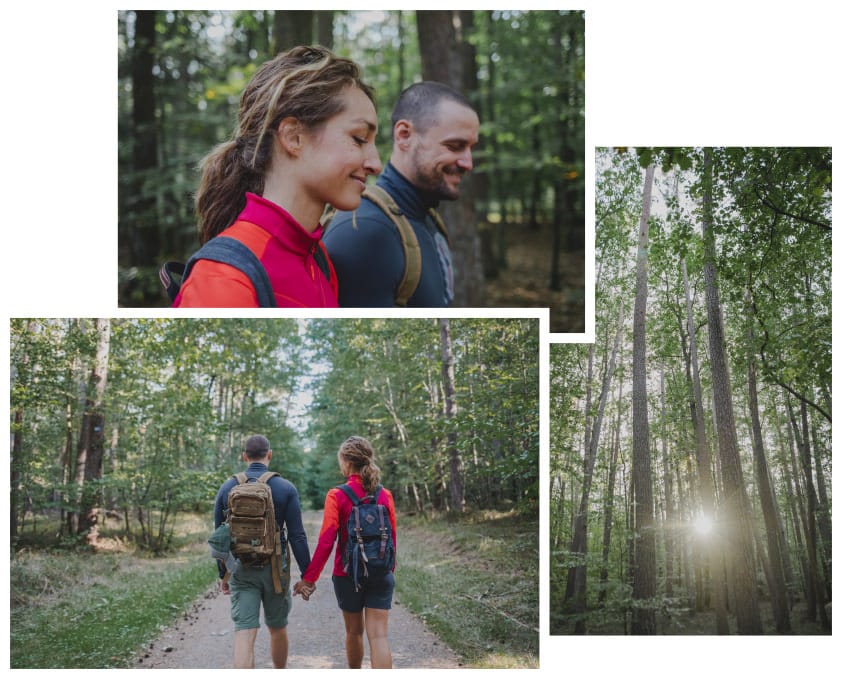 Combined with wellness at the 4* Kunzmann's Hotel
Hiking is your great passion? Then you should definitely visit us at KUNZMANN'S wellness hotel, because the Rhön is perfect for hiking! In and around Bad Bocklet there are almost innumerable hiking tours and hiking destinations that make every nature lover's heart beat faster.
No matter if you prefer to hike along the river Saale, climb the mountains of the Rhön or if you prefer to follow hiking trails through the woods, here at KUNZMANN'S wellness hotel you will find a perfect hiking trail for every mood.
Where hikers' hearts soar
Unique views and beautiful hiking destinations like the Kreuzberg await you around our KUNZMANN'S wellness hotel in Bavaria. The Rhön biosphere reserve is characterized by the special diversity of its landscapes. Tranquil villages, mysterious forests and gorges - the Saale Valley in the Rhön captivates with its beautiful landscapes. Experience it yourself and secure your hiking vacation in our spa and hiking hotel in Bad Bocklet.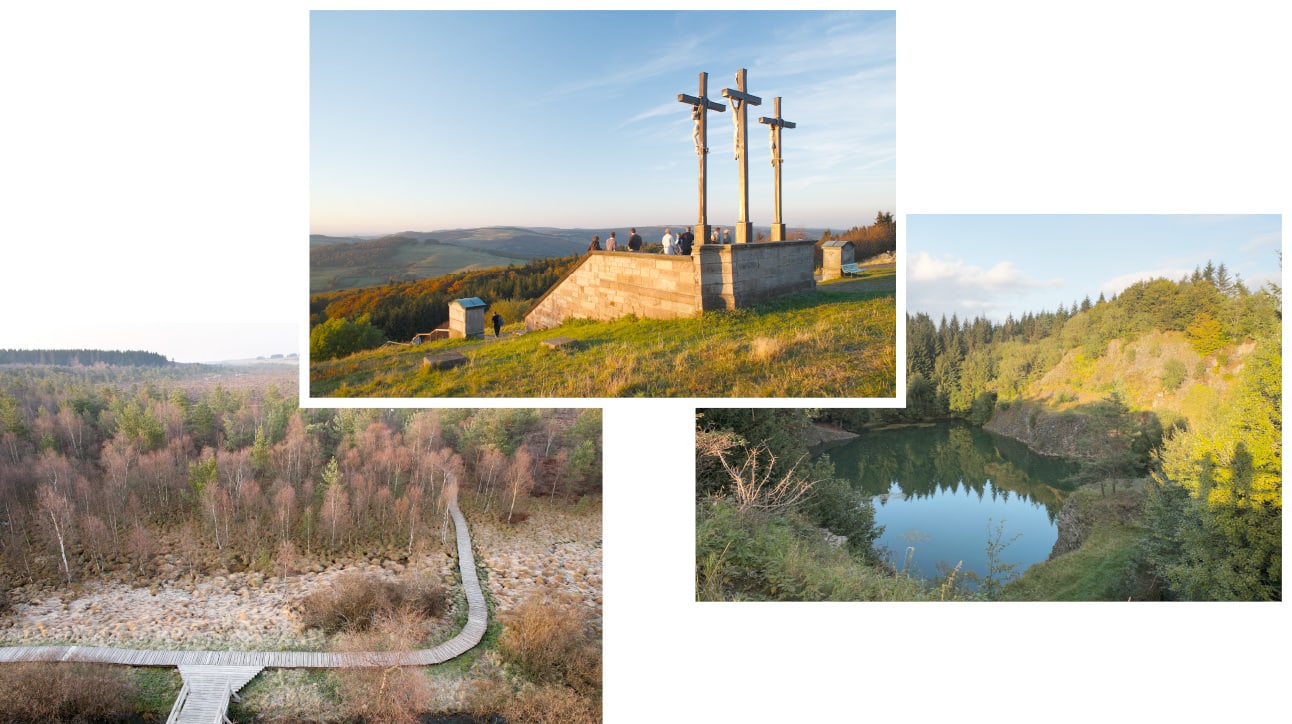 Hiking in the surroundings
Exploring Bavaria on hiking trails
Wayside shrine hiking trail Aschach
Besides wine, Franconia is also known for its wayside shrines, both in the landscape and in its villages. In the market town of Bad Bocklet, where our beautiful KUNZMANN'S wellness and Ayurveda hotel is located, especially in the district of Aschach, the local history and hiking association has taken on the task of caring for this culture worth preserving. So why don't you hike along the wayside shrine hiking trail during your short vacation in the Rhön?
HIKING TOURS AROUND THE KUNZMANN'S WELLNESS HOTEL  - "GREAT ROUND"
If you choose the so-called "Great Round", you will pass the erected corridor monuments of the Bad Bocklet region while hiking around the KUNZMANN'S wellness and Ayurveda hotel. The length of the hiking route is 16 km and leads you in the form of a figure eight through the beautiful Bad Bocklet with an intersection at the fountain in Aschach. If the hiking trail is too much for you at once, you can easily divide it into two stages during your vacation at the spa and wellness hotel.
HIKING TRAILS FOR NATURE LOVERS - EDUCATIONAL NATURE TRAIL ASCHACH
In the Aschach district of Bad Bocklet, a nature trail was created on the former site of the ornithological path. Only a few kilometers away from our wellness and Ayurveda hotel, this path is located in the middle of the nature of the Rhön. Young and old can walk on the 2.3 km long nature trail on the outskirts of Aschach, through a varied piece of nature. At the edge of the Bavarian Rhön Nature Park you have the opportunity to learn a lot of new things between ecology and pedagogy. And the path also provides for small breaks for relaxation, because in addition to tree loungers you will also find a rest area and the refuge.
Should you long for more relaxation, just come back to KUNZMANN'S wellness and Ayurveda hotel and let yourself be pampered.
Not only in summer are there countless hiking trails in the Rhön. In the winter months, too, there are countless hiking trails through dreamlike winter worlds ready to be explored.
"Very nice rooms, a chef who really knows his business with exceptional dishes, great buffets. In addition, a large spa area with massages, saunas, including infrared sauna. There is also a beautiful swimming pool, training equipment and carefully prepared seminar rooms. The beautiful nature invites you to hikes or bike rides."
 ⭑ ⭑ ⭑ ⭑
- THERES VETTE
GOOGLE RATING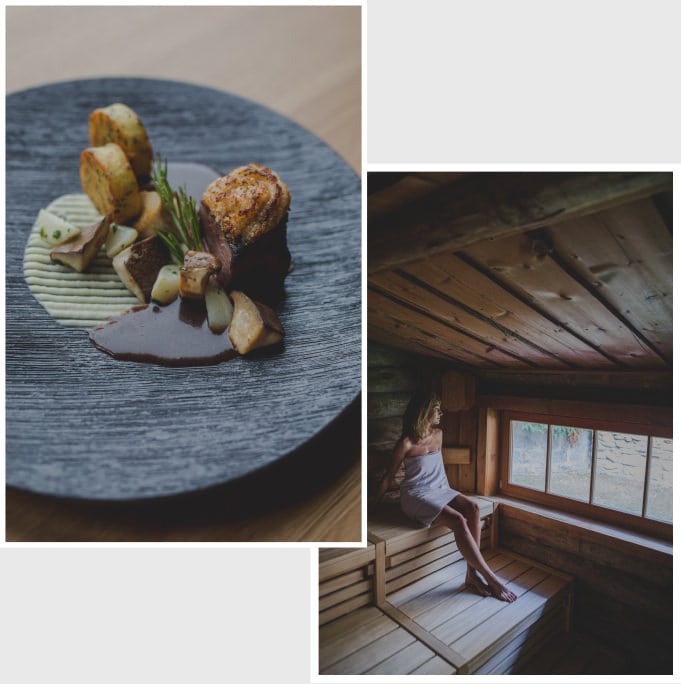 HIKING AROUND THE KUNZMANN'S AYURVEDA & WELLNESS HOTEL IN FRANCONIA
Relax after an adventurous hike in our state-of-the-art wellness hotel in Bavaria, bring body and mind back into balance with traditional Ayurveda, indulge your palate with regional delicacies from Franconia and enjoy family hospitality.
REGIONAL CUISINE MEETS REFINED CULINARY ARTS
perfect after a day of hiking in the Rhön
There is nothing better than starting a hiking tour in Bavaria with a rich and balanced breakfast and ending the day after extensive hiking with a delicious dinner. Spoil your palate with delicious food. Juicy organic fruit from our own cultivation. Tenderest meat from game from the hotel's own hunting grounds. The tasty Rhön trout.
These are just a few basics for a variety of hearty dishes in the restaurant GREGOR | 1926 of our wellness and hiking hotel.
Our top cuisine, combined with outstanding service and a cozy and modern atmosphere, will make your hiking vacation in our hotel in Bavaria a pure delight for the palate.
Regional, seasonal, with own game,
vegan or ayurvedic
Relaxing in
Kunzmann's Spa
Treat yourself to a massage or refreshing application after an adventurous hike in Lower Franconia. In our wellness and hiking hotel in Bavaria, not only numerous hiking trails are at your disposal, but also our spa area at over 1,000m2. Train your fitness in the indoor pool with counter-current system, promote your blood circulation in the whirlpool or get your immune system going again with the soothing hot air of our sauna area.
You prefer your own personal cuddle area after an extensive hiking tour? Then simply reserve an exclusive lounger in our cozy warm fireplace lounge and relax with the soothing flickering of the fireplace. We look forward to your visit in our hiking and wellness hotel Bavaria.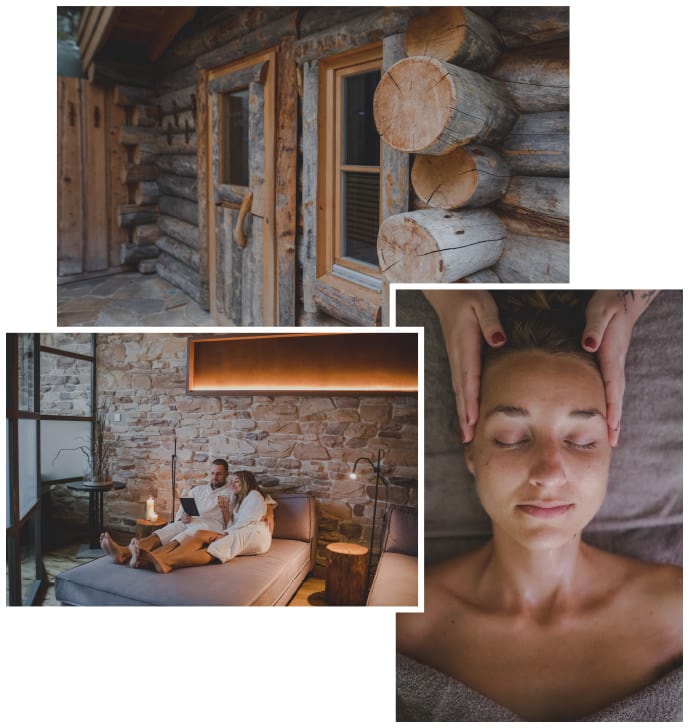 In addition to our hiking and wellness offers, you also have the opportunity to get to know medical Ayurveda with us at KUNZMANN'S Hotel. This combination is unique in Bavaria.
Our two Indian Ayurveda doctors Dr. Jibin Manjila and Dr. Dona Francis will be happy to take time for you in a detailed initial consultation. The therapy tailored to you will then be applied by our trained Ayurveda therapists who come from India and is the perfect complement to a successful and relaxing hiking vacation in Bavaria.
Hiking at the wellness hotel Bavaria
DETAILED ROOMS & SUITES AS A RETREAT
A good night's sleep is also part of a relaxing hiking vacation in Bavaria. In our high-quality rooms and suites, the love for nature and the region is always perceptible. Impressive by modern design and detail-loving equipment, the rooms & suites of our hiking and wellness hotel offer the ideal retreat.
You will not find any city noise here. But after adventurous hiking tours you can look forward to quiet nights in our hotel in the middle of the Rhön.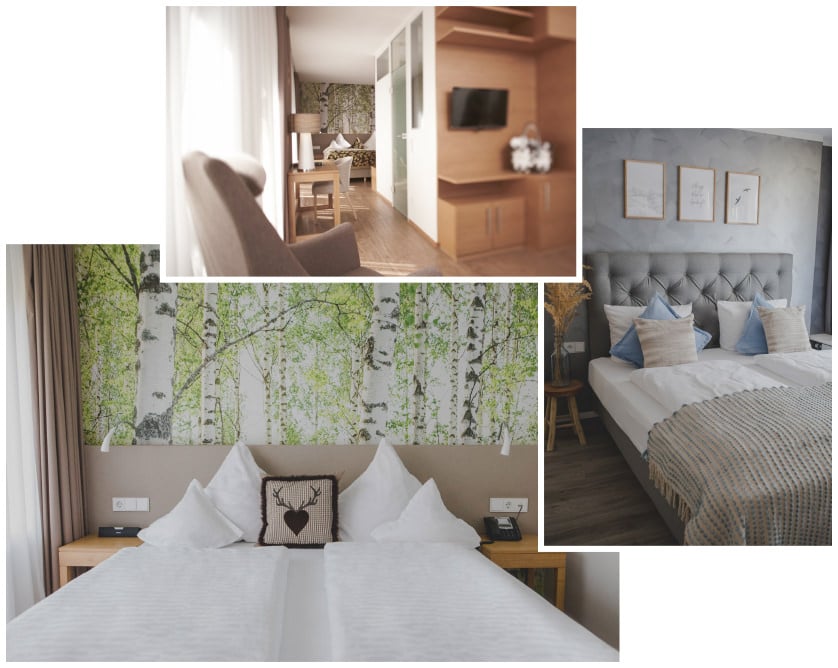 ...for your relaxed hiking vacation in Bavaria
There is a lot more than "just" hiking here
In addition to hiking, there are many other activities available to you at our wellness hotel.
Are you a passionate golfer or do you prefer to get on the bike saddle? How about a balloon ride over the beautiful Rhön Mountains in Bavaria instead of hiking? Or would you rather enjoy a few quiet hours fishing in and around Bad Bocklet? Nearby Bad Kissingen, with its many attractions, also invites you to enjoy some relaxing sightseeing. And while you're there, why not try your luck at the famous casino?
Our leisure offer leaves hardly anything to be desired. Whether Nordic walking on certified trails, cross-country skiing on optimally groomed trails, hiking with alpacas through a beautiful nature reserve in Bavaria - the Rhön - or a fun sleigh ride on the nearby toboggan runs. How about a hiking trip to the red moor in the Hochröhn? The Franciscan monastery above Bischofsheim on the Kreuzberg awaits you with its own brewery and a cool Bavarian beer.
Don't hesitate for long and secure your hiking vacation in Bavaria at KUNZMANN'S Ayurveda and wellness hotel.
Whatever you want to do during your hiking vacation in Bavaria, you are sure to find something here that you will enjoy and that will help you leave everyday life behind for a moment and create a change of pace from hiking.
Offers Hiking Hotel Bavaria
TWO NIGHT STAYS
with regional and vital breakfast buffet
+ FOOT MASSAGE WITH FOOT PEELING
approx. 20 minutes
THREE NIGHTS
with a regional and vital breakfast buffet
+ THREE x 4-COURSE-DINNER MENU
+ HOT STONE MASSAGE
approx. 20 Minuten
SEVEN NIGHTS
with a regional and vital breakfast buffet
+ SEVEN x 4-COURSE-DINNER MENU
+ BACK-SHOULDER-NECK NMASSAGE
approx. 20 Minuten
+ MOOR-MUD-PACK
for the back
+ RELAXING BATH
KunzMann's "Vorteilswelt"
Benefit from our exceptional bonus program
No obligations, but lots of amenities - and very exclusively: in our KUNZMANN'S Club, loyal members who book their overnight stay directly through KUNZMANN'S Hotel are rewarded with many specials:
AS OF THE 2ND DIRECT BOOKING
Become a member easily and for free
HIKING VACATION COMBINED WITH SPA & AYURVEDA AT KUNZMANN'S WELLNESS HOTEL BAVARIA

HIKING AT THE SPA & WELLNESS HOTEL BAVARIA | HIKING VACATION and HIKING in the Rhön | Actively enjoying nature while hiking in Franconia | HIKING TRAILS in Bavaria | GREGOR | 1926 - the Franconian restaurant in the Rhön | HIKING HOTEL Bavaria | Detailed ROOMS & SUITES as a retreat during a SHORT VACATION for hiking | authentic Ayurveda medicine & hiking | Detox vacation & hiking | WELLNESS HOTEL with sauna, whirlpool, pool and spa treatments or as Day Spa | Hiking in BAVARIA | Active vacation | Romantic weekend in Bavaria combined with HIKING | Yoga hotel with HIKING | WELLNESS and hiking hotel Bavaria | HIKING TOURS in FRANCONIA