0

⭑⭑⭑⭑S

Wellness and ayurveda hotel
0

m2

light-flooded, modern spa
Kunzmann's wellness hotel
DETAILED ROOMS & SUITES FOR RETREAT
Enjoy peace and quiet, feel the power of nature and experience family hospitality. Relax in our stylish and modern 4 star wellness hotel in the Rhön in Bavaria.
A good night's sleep is just as much a part of a relaxing wellness weekend. In our high-quality rooms and suites, the love of nature and the region is always perceptible. Impressive with modern design and detail-loving furnishings, the rooms & suites of our wellness hotel here in Lower Franconia offer the ideal retreat. Look forward to quiet nights in our hotel in the middle of the Rhön.
IN KUNZMANN'S WELLNESS HOTEL IN THE RHÖN
If it were up to our society, the world would have to spin faster and faster. Even more work. Even more profit. And what about vacation and relaxation? In most cases, personal health unfortunately gets far too little attention.
To keep our natural balance from getting upset, we need to consciously take care of our mind and body.
A time out in our KUNZMANN'S wellness and Ayurveda hotel gives you new energy and a balance to your daily challenges in everyday life.
INSTEAD, IN OUR WELLNESS HOTEL YOU CAN EXPECT ...
a relaxed tranquility in the middle of a beautiful natural landscape

friendly staff that cares about your well-being

over 1000m2 modern spa area

culinary delights - from ayurvedic to vegan to our own game

a Private Spa opportunity for you alone

Sun loungers by the pond and in KUNZMANN'S garden

an indoor pool with counter-current system

a Bio sauna and a Finnish Kelo outdoor sauna

a vitality bar with regional fruit, revitalized Grander water and a selection of different teas
We could list much more, but the best thing is to visit us directly in our wellness hotel in the Rhön.
Learn more about the wellness hotel in the Rhön
HOSPITALITY FOR FOUR GENERATIONS
What began in 1926 with 16 beds continues through the KUNZMANN'S wellness hotel to the present, fourth generation of hosts. Already in the founding years, every single guest was seen almost like a family member. And this family hospitality can still be felt today, almost 100 years later, in every area of the hotel.
A special highlight is the geographical location of the KUNZMANN'S. The Saal meadows of Bad Bocklet are directly in front of the wellness hotel in Bavaria. This gives you direct access to the Rhön biosphere reserve, the surrounding forests and the impressive hills.
Great location to the spa park, beautiful grounds, super spa area, friendly staff throughout, excellent food, friendly designed rooms in pleasant colors, very good beds. Even at late breakfast everything was still available. Overall, an absolutely positive stay.
 ⭑ ⭑ ⭑ ⭑
- BERND
GOOGLE RATING
Wellness vacation Bavaria
OUR ROOMS AND SUITES IN THE WELLNESS HOTEL IN THE RHÖN
Our attention to detail, our love for the region around the Rhön and our closeness to nature are also reflected in our rooms and suites. The modern furnishings and warm atmosphere guarantee a cozy feeling and comfort for a unique vacation.
Relaxing nights are guaranteed at KUNZMANN'S wellness hotel not only because of the special, quiet location at the park. Our room design also ensures that you can enjoy the best relaxation during the day.
Whether you choose the CAROLIN Suite, a Superior double room or a single room - in any case you will enjoy pure relaxation in our wellness hotel.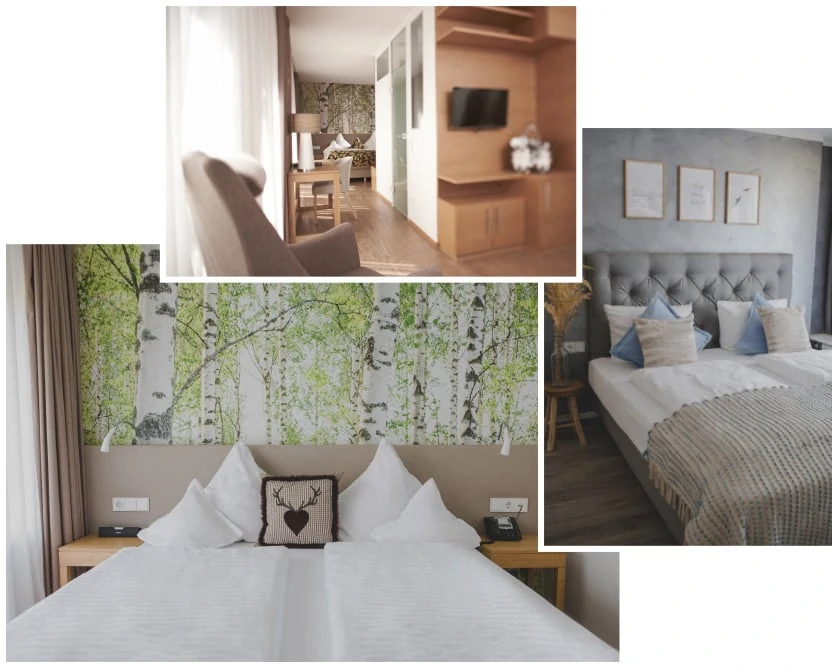 ...for your relaxed wellness vacation in the Rhön
Sleep as if you're on clouds
YOUR FAVORITE PILLOW
FROM OUR CUSHION BAR
YOUR FAVORITE PILLOW FROM OUR CUSHION BAR
Everyone has different preferences when it comes to sleeping pillows. So that you sleep just as restfully during your stay at the KUNZMANN'S wellness hotel as you do at home, you can choose your favorite pillow from us. After all, relaxation also goes hand in hand with healthy sleep.
Choose between our spelt pillow with valuable minerals, the virgin sheep's wool pillow with selected, felt-free virgin sheep's wool or the lumbar pillow, which relieves your back muscles.
WE TAKE CARE OF YOUR WELL-BEING
Take time to relax and regenerate. At KUNZMANN'S wellness hotel you will find everything you need for this. Fill up with fresh air while hiking in the Rhön. Keep fit while biking in the green hills of the Franconian Saale Valley. Or train your body in the hotel's own swimming pool with counter-current system.
Between the various treatments, our shady coffee garden is ideal for relaxing. You feel like a delicious cocktail in the evening? Then let our bartender mix you a drink before you start the new morning rested and full of freshness. At KUNZMANN'S wellness hotel in the Rhön your vacation will be an unforgettable experience.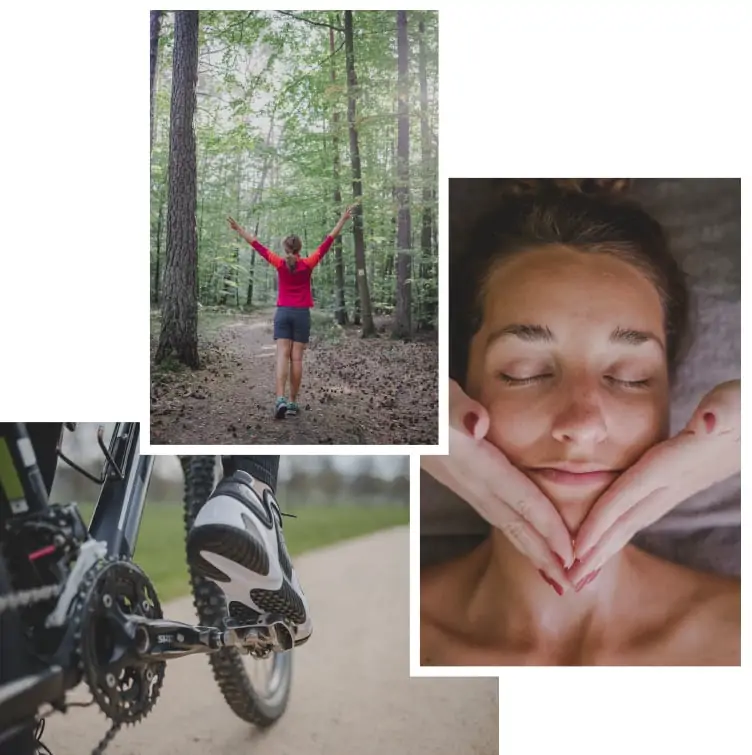 ...much more than just a wellness hotel in the Rhön!
AYURVEDA CURE AND WELLNESS VACATION AT KUNZMANN'S WELLNESS HOTEL IN THE RH&OUMl;N IN BAVARIA
SPA & WELLNESS HOTEL RHÖN | Ayurveda vacation and detox cure in the KUNZMANN'S hotel in the Rhön | Actively enjoy nature while golfing in Franconia | Hiking in the Rhön | Purifying with welfare fasting after Buchinger in the wellness hotel in the Rhön | GREGOR | 1926 - the Franconian restaurant in the Rhön | CONFERENCE HOTEL Bavaria | Detailed ROOMS & SUITES as a retreat | authentic Ayurveda medicine | Detox vacation | WELLNESS HOTEL with sauna, whirlpool, swimming pool and spa treatments or as Day Spa | Hiking in the Rhön | Active vacation | Romantic weekend in Bavaria | Yoga hotel | WEDDING LOCATION in the Rhön | WELLNESS and spa hotel Bavaria