0
⭑⭑⭑⭑
Conference and seminar hotel Bavaria
0

m2

Outdoor and lounge area
0
Space for up to 100 conference guests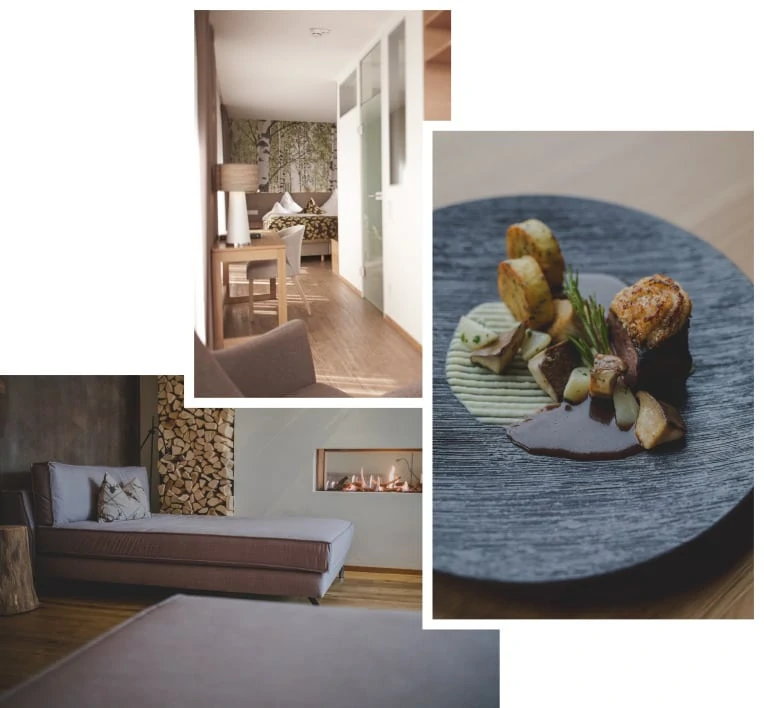 WORKING IN BEAUTIFUL AMBIENCE
When work becomes pleasure! We, the KUNZMANN'S wellness hotel in the Rhön offer the ideal setting for meetings, seminars, conferences, workshops as well as celebrations in a cozy atmosphere.
At our conference hotel you will find three excellently and above all modernly equipped, freshly renovated and air-conditioned event rooms with daylight, free WIFI access for all guests and with space for up to 50 participants for seminars, conferences or company celebrations. And in addition, there is a lovely and spacious garden for outdoor events.
The conference facilities in combination with regional delicacies and culinary highlights from our KUNZMANN'S Restaurant GREGOR | 1926 and our modern spa create the ideal feel-good atmosphere for your guests and business partners.
CONFERENCES AT KUNZMANN'S HOTEL
The right location for your corporate event in the Rhön
FOR CONFERENCES WITH UP TO 50 PEOPLE
The Salon Stellberg is our largest seminar room with 70 m2 and lots of daylight, making it the ideal venue for seminars with up to 50 people. Use the white wall for a presentation with beamer and inspire your conference guests with a convincing presentation.
Connecting door to Salon Altenberg

With adjoining foyer and terrace area
AN EXAMPLE WITH 24 PERSONS SEATING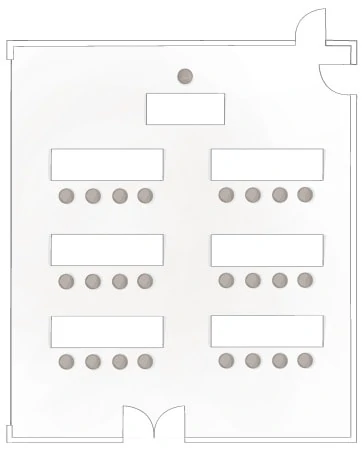 FOR CONFERENCES WITH UP TO 30 PEOPLE
With a connecting door to the Salon Stellberg, the Salon Altenberg is the perfect addition for larger meetings. Our seminar room with 50m2 and lots of daylight and thus the ideal venue for seminars with further up to 30 people.
Connecting door to Salon Stellberg

Bookable as a supplement to Salon Stellberg
AN EXAMPLE WITH 20 PEOPLE SEATING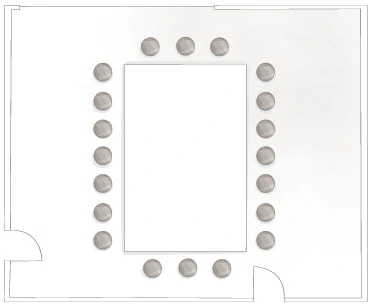 FOR SEMINARS WITH UP TO 22 PEOPLE
The Vinotheque in our KUNZMANN'S conference hotel with its furnishings creates a very special ambience for your corporate event in the Rhön. Equipped with a flat screen TV you can convince your conference guests with your presentation.
Fixed flat screen TV with PC connections

Fixed block table: max. 22 people
AN EXAMPLE WITH 18 PEOPLE SEATING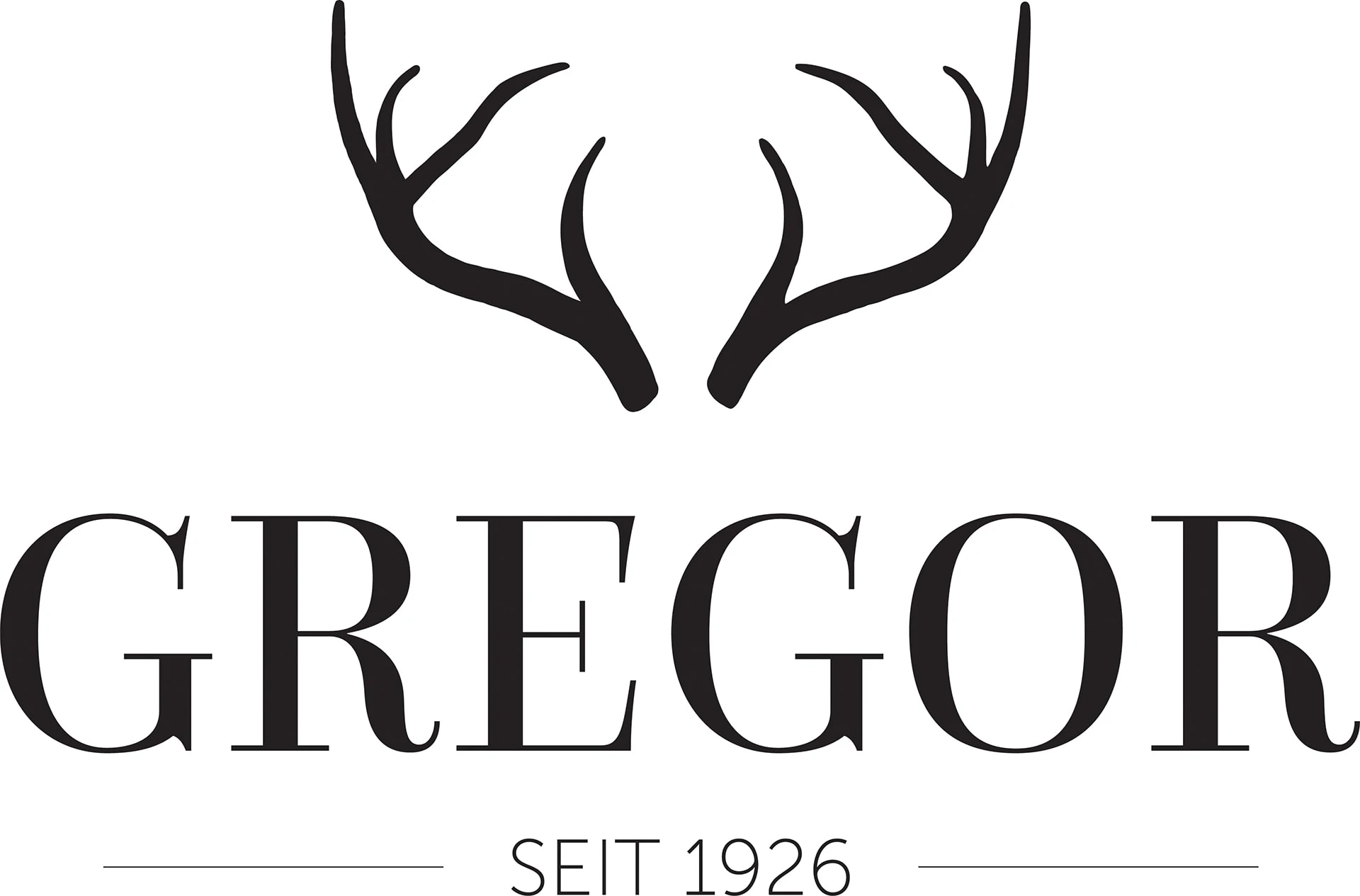 COMPANY EVENT COMBINED WITH CULINARY AT ITS BEST
In KUNZMANN'S Restaurant GREGOR | 1926 you can enchant your conference guests with regional delicacies from the Rhön and culinary delights of the finest. From game from our own hunt and organic fruit from KUNZMANN'S garden to vegan and Ayurvedic delicacies, the GREGOR | 1926 restaurant with its adjoining terrace offers an ideal location for your corporate event.
Adjacent lobby with open fireplace

Sun terrace with shady coffee garden

Seasonal delicacies from the Rhön
FOR OUTDOOR COMPANY EVENTS
Are you looking for an outdoor location for your company event? KUNZMANN'S garden offers the perfect opportunity with its garden pavilion, lounge furniture and an outdoor bar.
Up to 60 people under the pavilion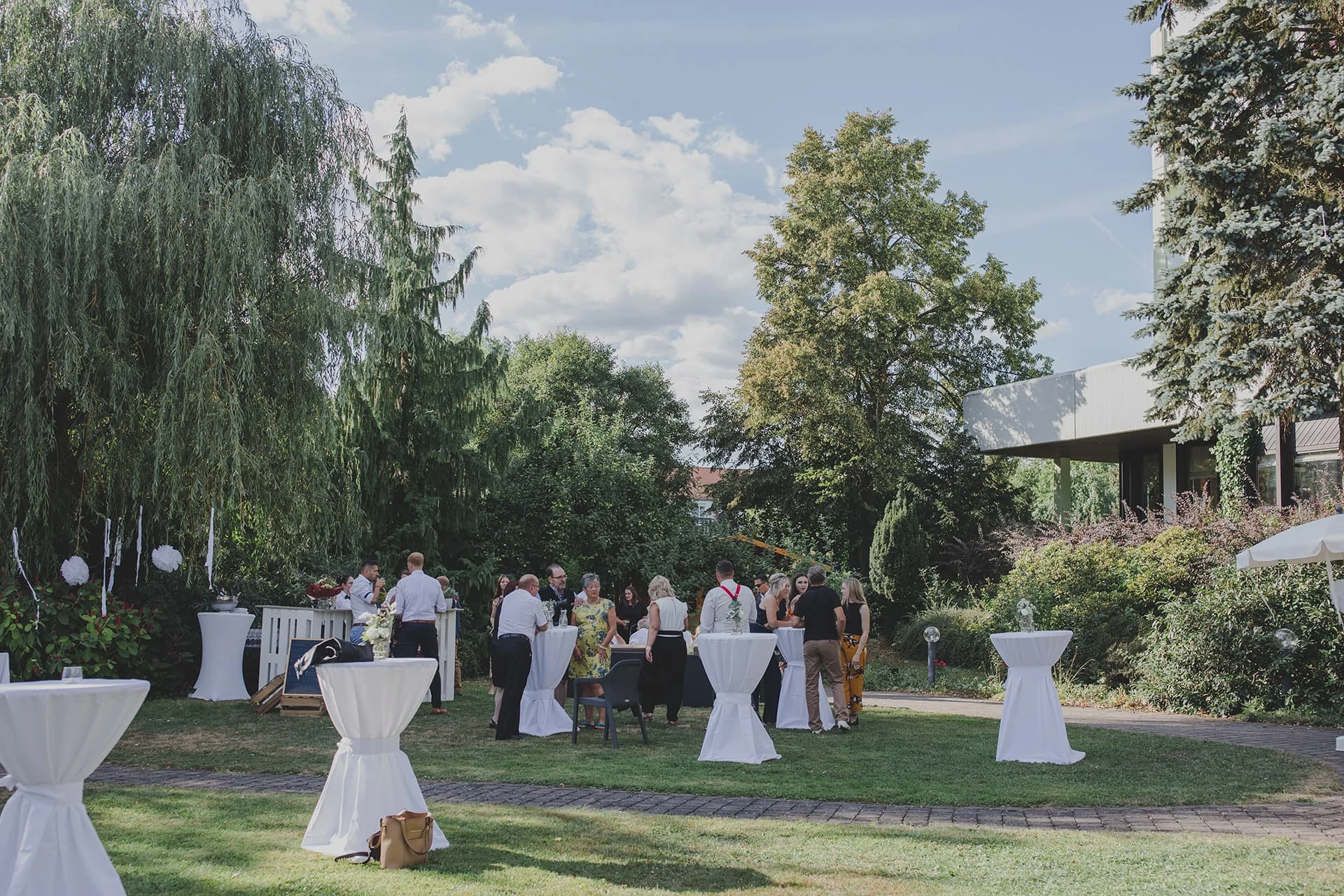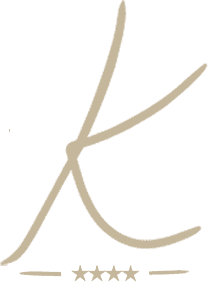 ...more than just a conference hotel in Bavaria!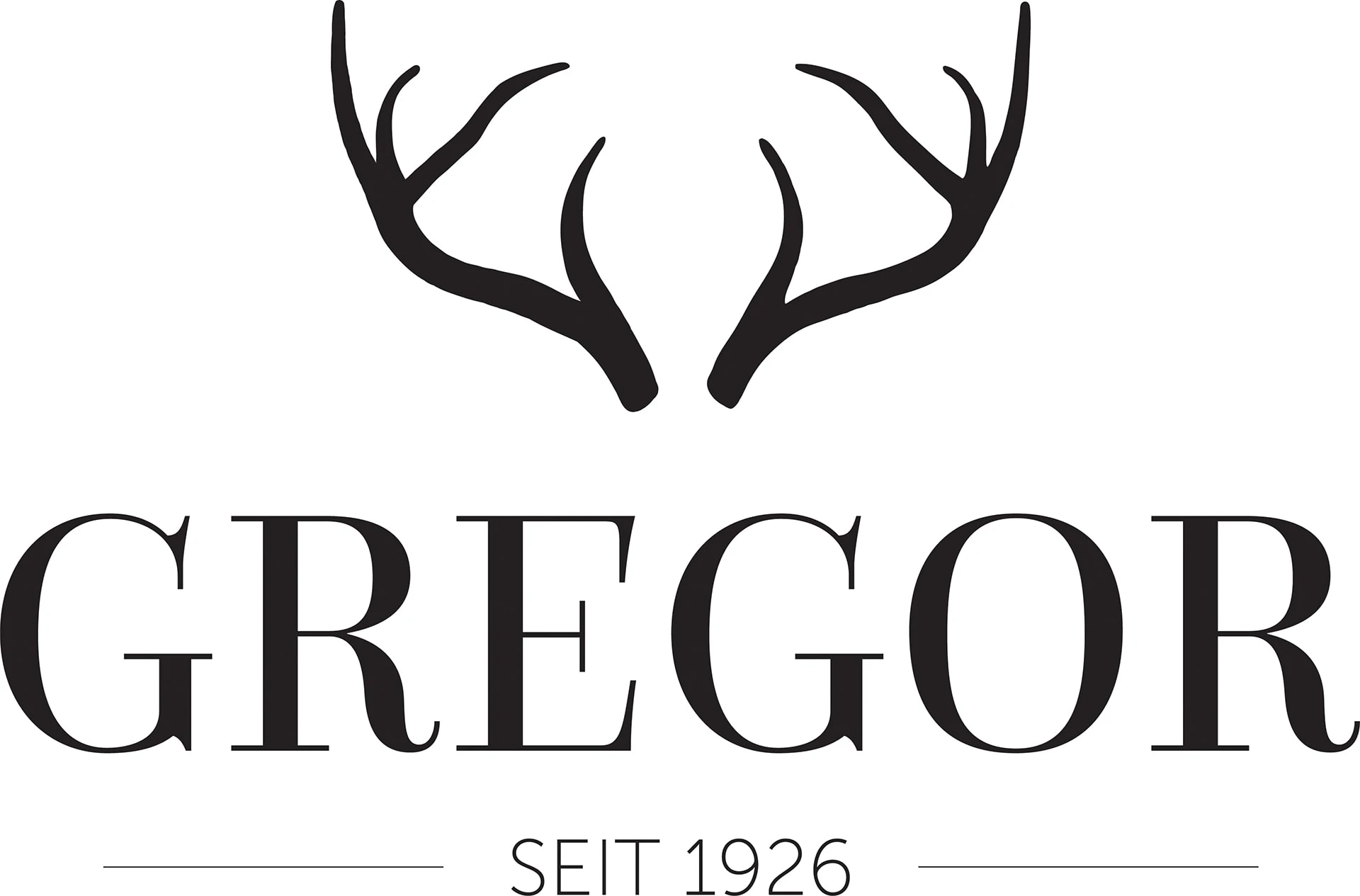 REGIONAL CUISINE MEETS REFINED CULINARY ARTS
a feast for the palate of your conference guests
Treat the palate of your guests with delicious food in our restaurant in the Franconian Rhön in Bavaria. Juicy organic fruit from our own cultivation. Tenderest meat from the game from the hotel's own hunting ground. The tasty Rhön trout - these are just some of the basics for a variety of hearty dishes in the GREGOR | 1926 at KUNZMANN'S gourmet and wellness hotel.
Ayurvedic nutrition also plays a major role in our conference hotel Bavaria. Therefore, we make sure to adjust the dishes to your Ayurveda cure in order to offer you the full scope of the traditional Indian healing art.
Our vegan guests will also enjoy the taste, for whom our chefs have selected ingredients ready and conjure up the most delicious dishes.
Exquisite Franconian and international wines round off your stay at the restaurant. So that you can enjoy the best of all seasons, we adjust our menu several times a year to the corresponding season.
Our top cuisine, combined with outstanding service, will make your stay in our Franconian wellness hotel a pure delight for the palate.
regional, seasonal, with own game,
vegan or ayurvedic
Fill up with energy and
stay balanced
Fill up with energy and stay balanced
You and your conference guests can enjoy your stay with us at KUNZMANN'S conference hotel in Bavaria to the fullest. Relax in our spa and wellness area on over 1000m2. Train your fitness in the indoor pool with counter-current system, promote your blood circulation in the whirlpool or get your immune system going again with the soothing hot air of our sauna area. The perfect balance after a long day packed with seminars & workshops.
Sauna, fireplace lounge &
spa treatments
AT KUNZMANN'S CONFERENCE HOTEL BAVARIA:
The right treatment for each
guest
The right treatment for each guest
After your meeting, choose from our numerous treatments according to your preference. How about a relaxing facial treatment that will make your skin glow and protect it from premature aging? A soothing back and neck massage will calm your body and mind. The natural and vegan care products support the relaxation process.
Or may we pamper you with a moor mud application? This has a circulation-promoting effect and helps to resolve chronic inflammatory conditions. Or perhaps you would prefer to convince yourself of the power of warm stones in the form of a hot stone massage, which invigorates your senses and relaxes you. With us at KUNZMANN'S conference hotel Bavaria, you have the opportunity to relax after a long day of work.
CONFERENCE AND SEMINAR HOTEL BAVARIA
DETAILED ROOMS & SUITES AS A RETREAT
A successful meeting in Bavaria also includes a good night's sleep. In our high-quality rooms and suites, the love for nature and the region is always perceptible. Impressive by modern design and detail-loving equipment, the rooms & suites of our wellness hotel offer the ideal retreat.
You will not find any city noise here. Instead, you can look forward to quiet nights in our hotel in the middle of the Rhön.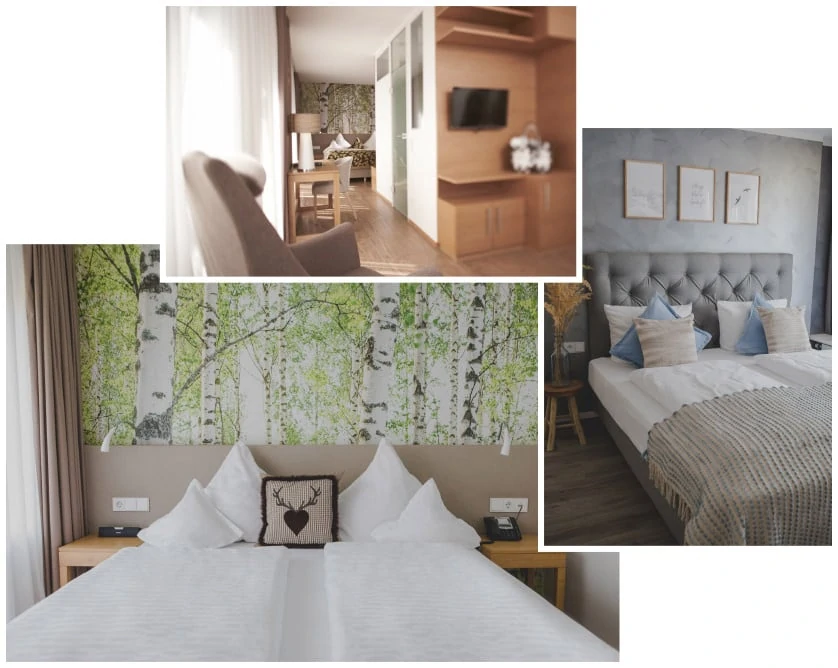 ...for restful nights during your conference
DISCOVER THE RHÖN AWAY FROM THE CONFERENCE AT THE HOTEL
You would like to provide your guests with a comprehensive leisure offer in addition to a conference? Maybe even a tour organized in a group or a day of leisure during a company event lasting several days? The surroundings around the KUNZMANN'S wellness and conference hotel in the Rhön have a lot to offer: From golfing, cycling, hiking and yoga to fishing, no wishes are left unfulfilled. How about a gliding flight over
the beautiful Rhön in Bavaria? And while you're there, why not try your luck in the time-honored
casino. Maybe it's worth it. Whether Nordic walking on certified trails, cross-country skiing on optimally groomed trails, hiking with alpacas through a beautiful nature reserve in Bavaria - the Rhön - or a fun sleigh ride on the nearby toboggan runs. How about a trip to the red moor in the High Rhön? The Franciscan monastery above Bischofsheim on the Kreuzberg awaits you with its own brewery and a cool beer. This way, your conference guests will definitely not leave with any wishes unfulfilled.
Whatever you want to do - you are sure to find something here that will be fun for you and your guests and help you leave everyday life behind for a moment.
CONFERENCE HOTEL BAVARIA, SEMINAR HOTEL BAVARIA AT KUNZMANN'S WELLNESS HOTEL IN THE RHÖN
CONFERENCE HOTEL Bavaria | SEMINAR HOTEL Bavaria | Conference hotel Rhön | Workshops, seminars, meetings in the RHÖN | Actively enjoy nature during a conference in Bavaria | CONFERENCE HOTEL with hiking in the Rhön | GREGOR | 1926 - the Franconian restaurant in the Rhön | CONFERENCE HOTEL Bavaria | Detailed ROOMS & SUITES as a retreat during a conference, a seminar or a workshop in the Rhön| authentic Ayurveda medicine | WELLNESS HOTEL with sauna, whirlpool, pool and spa treatments and conference room | Hiking in BAVARIA | WEDDING LOCATION in the Rhön | WELLNESS and spa hotel Bavaria | CONFERENCE HOTEL Bad Kissingen