Getting married in the Rhön
IN 4 STARS HOTEL
NEAR BAD KISSINGEN
IN 4 STARS HOTEL NEAR BAD KISSINGEN
0
⭑⭑⭑⭑
Wellness and Ayurveda hotel
0

m2

Outdoor and lounge area
0
Space for up to
25 guests
Garden wedding in Bavaria
A WEDDING LOCATION IN THE RHÖN UNDER THE OPEN SKY
Wake up after a restful night in our suite and have breakfast served to your room. The stylist knocks on the door and you get ready for the big day in a relaxed way together with your best friend. One by one, the guests check into the hotel and enjoy a refreshing drink in the garden. And then there it is, the moment when you as the bride step in front of your guests for the first time at your outdoor wedding ceremony surrounded by nature and rippling water in the pond. Without a drive, it continues directly under the romantic gazebo protected from the midday sun with delicious coffee & cake. Musicians provide relaxing background music. The guests make themselves comfortable on the lounge furniture and let themselves be spoiled with refreshing KUNZMANN'S lemonade, Franconian and international wines or delicious cocktails. The evening continues with a flying dinner, where a variety of delicacies from the GREGOR | 1926 restaurant are served by our friendly service team. A relaxed outdoor wedding completely outdoors without having to do without professional service. This exactly is possible at KUNZMANN'S Hotel - the wedding location in the Rhön region very close to Bad Kissingen.
INTIMATE WEDDING VENUE FOR SMALL PARTIES
You want to keep your wedding celebration very small and intimate, only with the closest family and friends? Then our vinotheque at KUNZMANN'S restaurant GREGOR | 1926 could be just the thing for you. With up to 22 seats, this is perfect for a small intimate wedding with your loved ones.
But it is also an optimal wedding location for your civil wedding ceremony. See for yourself and visit us at KUNZMANN'S Hotel for a first impression.
The restaurant with terrace
FOR WEDDING PARTIES WITH UP TO 25 GUESTS
FOR WEDDING PARTIES WITH UP TO 25 GUESTS
You can also rent the premises of the modern and timeless restaurant GREGOR | 1926 as a wedding venue in the Rhön. With seats for up to 60 guests, it is perfect for smaller wedding parties and offers a warm and inviting atmosphere.
In addition to the restaurant GREGOR | 1926, our restaurant terrace with 120 m2 and overlooking our garden is also available, for example, for a champagne reception or an outdoor dinner. Here we can accommodate up to 45 people.
EXCEPTIONAL SERVICE COMBINED WITH ROMANTIC AMBIENCE
Make your wedding celebration an unforgettable experience and celebrate at the 4 star KUNZMANN'S wellness hotel - the very special wedding location in the Rhön! Whether in the vinotheque, on our terrace, in the restaurant GREGOR | 1926 or in the romantic pavilion in the garden – with us you will find the right location for your wedding or family celebration. We will be happy to serve you a festive menu according to your wishes and help you put together an interesting arrangement for young and old.
Our KUNZMANN'S spa and wellness hotel in Bad Bocklet is located directly in the middle of Germany, in the north of Bavaria near Bad Kissingen in the beautiful Rhön and is therefore very easy to reach from all corners of Germany.
WEDDING LOCATION IN THE RHÖN
Getting married at Kunzmann's Hotel
A wedding completely outdoors, that is possible with us at KUNZMANN'S Hotel. From the outdoor wedding ceremony at the pond in our garden to coffee and cake under the romantic pavilion to the outdoor bar. KUNZMANN'S Hotel offers the perfect outdoor wedding location in the Rhön, very close to Bad Kissingen.
AS OUTDOOR WEDDING LOCATION
Find protective and cooling shade from the warm midday sun under our romantic pavilion and enjoy delicious coffee and cake and other refreshing delicacies from our KUNZMANN'S Restaurant GREGOR | 1926 with up to 60 guests.
The choice is yours: We serve dinner under our romantic gazebo or in a relaxed and casual atmosphere as a flying dinner. This gives your guests even more opportunity to enjoy the ambience in the garden on our lounge furniture while enjoying the various delicacies of our restaurant GREGOR | 1926.
THE GARDEN AS A WEDDING LOCATION
Bar tables spread throughout the garden allow you to place drinks, musicians provide relaxing background music and the tall trees in our KUNZMANN'S garden provide enough shade in the afternoon to chat with guests in a relaxed manner and enjoy the day.
From replenishing drinks to cutting the wedding cake to the flying dinner - our service team will provide you and your guests with everything your heart desires during your wedding celebration. And of course always with a friendly smile on their faces. So that your wedding in and around Bad Kissingen becomes an unforgettable event.
WEDDING LOCATION IN THE GARDEN
Help yourself and your guests at our outdoor bar in the garden. There we will spoil you with refreshing drinks and delicious cocktails. From homemade KUNZMANN'S lemonade to Franconian and international wines. Here at KUNZMANN'S Hotel - the very special wedding location in Bad Kissingen in the Rhön - no wishes remain unfulfilled.
SUPPORT FROM THE BEGINNING
From the moment of your request we support you in the realization of your very individual wedding. With already 90 years of experience as a wedding location in the Rhön, we are also very happy to recommend professional wedding service providers from the region from photographers to musicians.
DETAILED ROOMS & SUITES FOR RETREAT
Start your wedding day already relaxed and arrive comfortably one day in advance. Our rooms and suites are perfect for getting ready.
But also for the very special wedding night our hotel has a lot to offer not only as a wedding location. Treat yourself to a night in our Carolin suite and relax in our box spring bed after your very special wedding day.
Our hotel is equipped with a total of 64 modern and detailed rooms and suites. Enough space for all your guests. Without shuttle service, your guests thus have the opportunity to stay directly on site at the wedding location near Bad Kissingen. The ideal retreat after an extensive wedding celebration.
You will not find any city noise here. Instead, you can look forward to quiet nights in our hotel in the middle of the Rhön.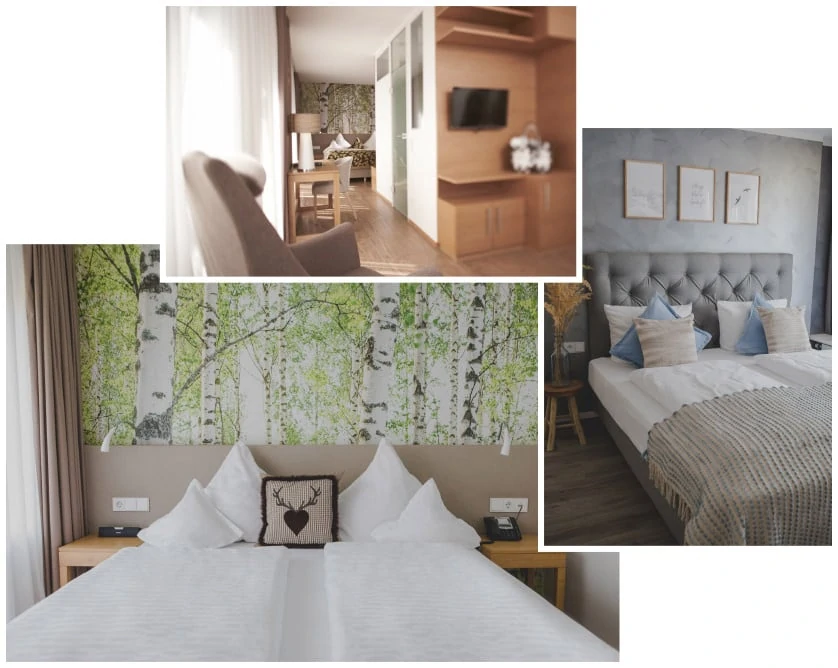 ...for your relaxed wedding in the Rhön
Sauna, fireplace lounge &
spa treatments
Recover from an unforgettable wedding celebration and end the weekend together with your guests in our KUNZMANN'S wellness hotel.
Relax in our spa and wellness area
on over 1000m2. Train your fitness in the indoor pool with counter-current system, promote your blood circulation in the whirlpool or get your immune system going again with the soothing hot air of our sauna area.
You prefer your own personal cuddle area? Then simply reserve an exclusive lounger in our cozy warm fireplace lounge and relax to the soothing flickering of the fireplace. Choose KUNZMANN'S Hotel as your wedding location in Bad Kissingen in the Rhön.
...much more than just a wedding location in the Rhön!
WEDDING LOCATION RHÖN, WEDDING LOCATION BAD KISSINGEN IN KUNZMANN'S WELLNESS HOTEL
Outdoor WEDDING LOCATION in the Rhön | Wedding location BAD KISSINGEN | GETTING MARRIED in the Rhön | Wedding location in 4 stars wellness hotel in the RHÖN | SPA & WELLNESS HOTEL BAVARIA as wedding location | Ayurveda vacation and detox cure in KUNZMANN'S Hotel in the Rhön | CELEBRATING in the Rhön | GREGOR | 1926 - the Franconian restaurant in Bad Kissingen in the Bavarian Rhön | WEDDING HOTEL Rhön | Detailed ROOMS & SUITES as a retreat | Wedding in WELLNESS HOTEL with sauna, whirlpool, pool and spa treatments or as Day Spa in Bad Kissingen | Hiking in BAVARIA | Active vacation | Romantic weekend in Bavaria | WEDDING LOCATION in the Rhön | WELLNESS and spa hotel Bavaria