0
⭑⭑⭑⭑
Wellness, Ayurveda
and yoga hotel
0

%Family business
in 4th generation
0

m2

light-flooded, modern spa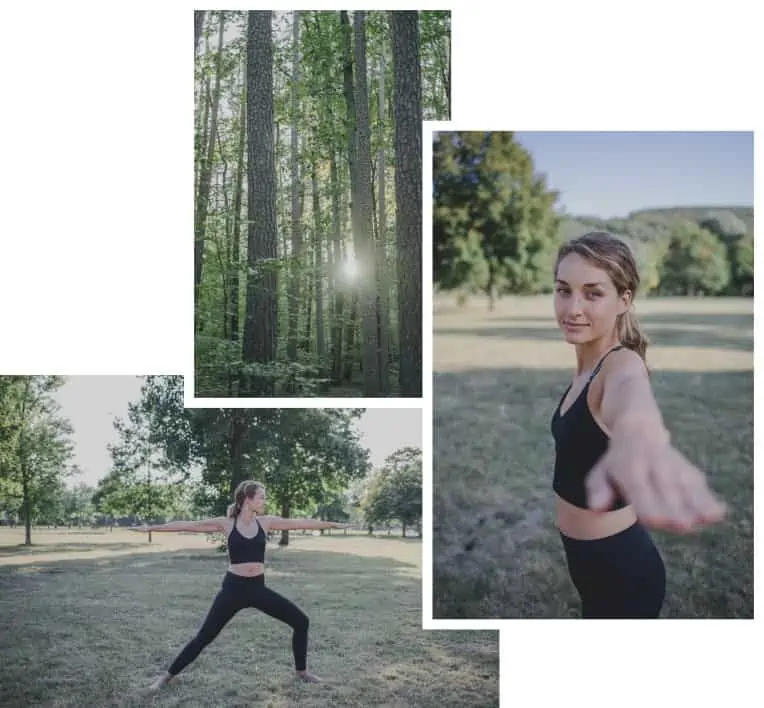 find inner balance at the 4* wellness and yoga hotel
Are you looking for a way to balance your body and your mind? Or do you want to find a balance to your stressful everyday life? Yoga at KUNZMANN'S wellness hotel Bavaria is your ideal companion for this.
Whether alone or under guidance, indoors or in the great outdoors - the choice is yours. Every day we offer yoga classes under the guidance of a trained yoga instructor at the KUNZMANN'S wellness, Ayurveda and yoga hotel during your vacation with us. It doesn't matter if you are a yoga professional or a beginner!
If you prefer to practice yoga alone, KUNZMANN'S is also the perfect place for this. In our wellness hotel, our hotel garden, the adjacent park, as well as our hotel's own yoga room are available for yoga exercises or meditations.
With the help of mantra chanting, your energy centers are opened and brought back into balance. Twice a week you have the opportunity to take part in a joint mantra chanting session with us at KUNZMANN'S Ayurveda, wellness and yoga hotel in the beautiful Rhön Mountains.
Bring your body and &
mind into balance
Ayurveda, yoga and meditation are closely related. Because meditation and yoga are important components of Ayurvedic medicine, which have been used for thousands of years to heal the body, as well as to strengthen mindfulness and clarify consciousness. Yoga takes care of both the body and the mind in this regard. Meditation structures the thoughts and creates balance.
That's why we regularly offer guided meditations here with us at KUNZMANN'S yoga and wellness hotel. In addition, our adjacent park as well as the beautiful forests of the Rhön offer the perfect place to ground yourself with your very own individual and silent meditation and connect with yourself and nature.
YOGA VACATION BAVARIA IN A VERY SPECIAL ATMOSPHERE
Yoga focuses on a person's own activity, which is strengthened through physical exercises (asanas) and breathing exercises (pranayama). In conjunction with meditation, you have the opportunity to calm your mind and let go of thoughts so that it can maintain an inner order and clarity even within various life situations. There are countless different forms of yoga:
Hatha Yoga, Ashtanga Yoga, Yin Yoga, Yoga Flow and many more...
Whether you want to find your inner peace, build strength or become more flexible - everyone can find the form of yoga that suits them.
Just give it a try! The KUNZMANN'S wellness, Ayurveda and yoga hotel Bavaria offers daily yoga classes with trained yoga instructors during your vacation.
You already know which yoga type you are? Then take advantage of our KUNZMANN'S park area when the weather is nice or enjoy the peace and quiet and do yoga just for yourself in our hotel's own yoga room or the unique forests of the Rhön!
"Very nice atmosphere with first class food and a beautifully designed spa area (light, color, natural materials). I also really loved the massage and yoga. I will be back! :-)"
 ⭑ ⭑ ⭑ ⭑
- KATHRIN SEIFERT
GOOGLE RATING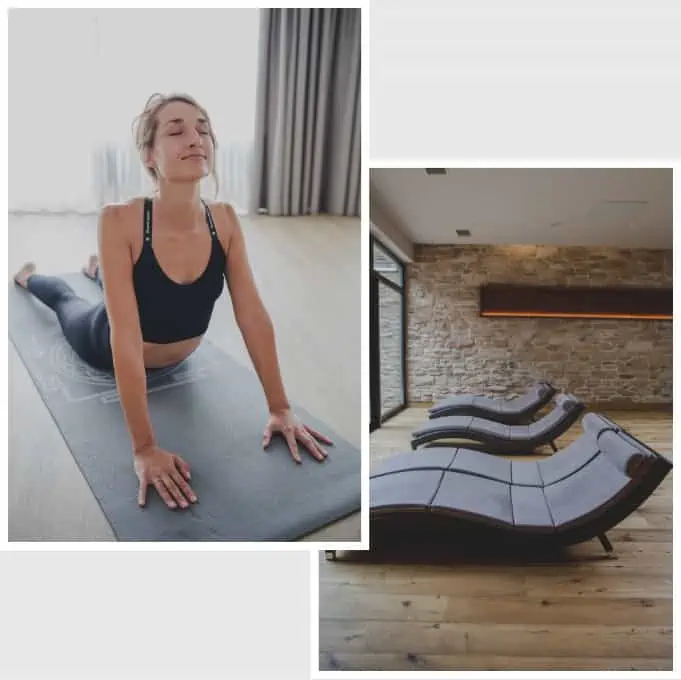 1 TREATMENT DAY, 2 NIGHTS
with Ayurvedic full board
+ AYURVEDIC DIAGNSTICS
+ 1 FULL BODY SYNCHRONOUS TREATMENT
+ 1 PADABHYANGA (approx. 30 min.)
Ayurvedic foot massage
+ DAILY YOGA (appox. 50 min.)
under instruction
+ FREE USE OF THE SPA
+ KUNZMANN'S SPECIAL SERVICES
KUNZMANN'S WELLNESS, AYURVEDA & Yoga HOTEL IN FRANCONIA
Relax during your yoga vacation in our state-of-the-art wellness hotel in Bavaria, bring body and mind back into balance with traditional Ayurveda, pamper your palate with regional delicacies from Franconia and enjoy family hospitality.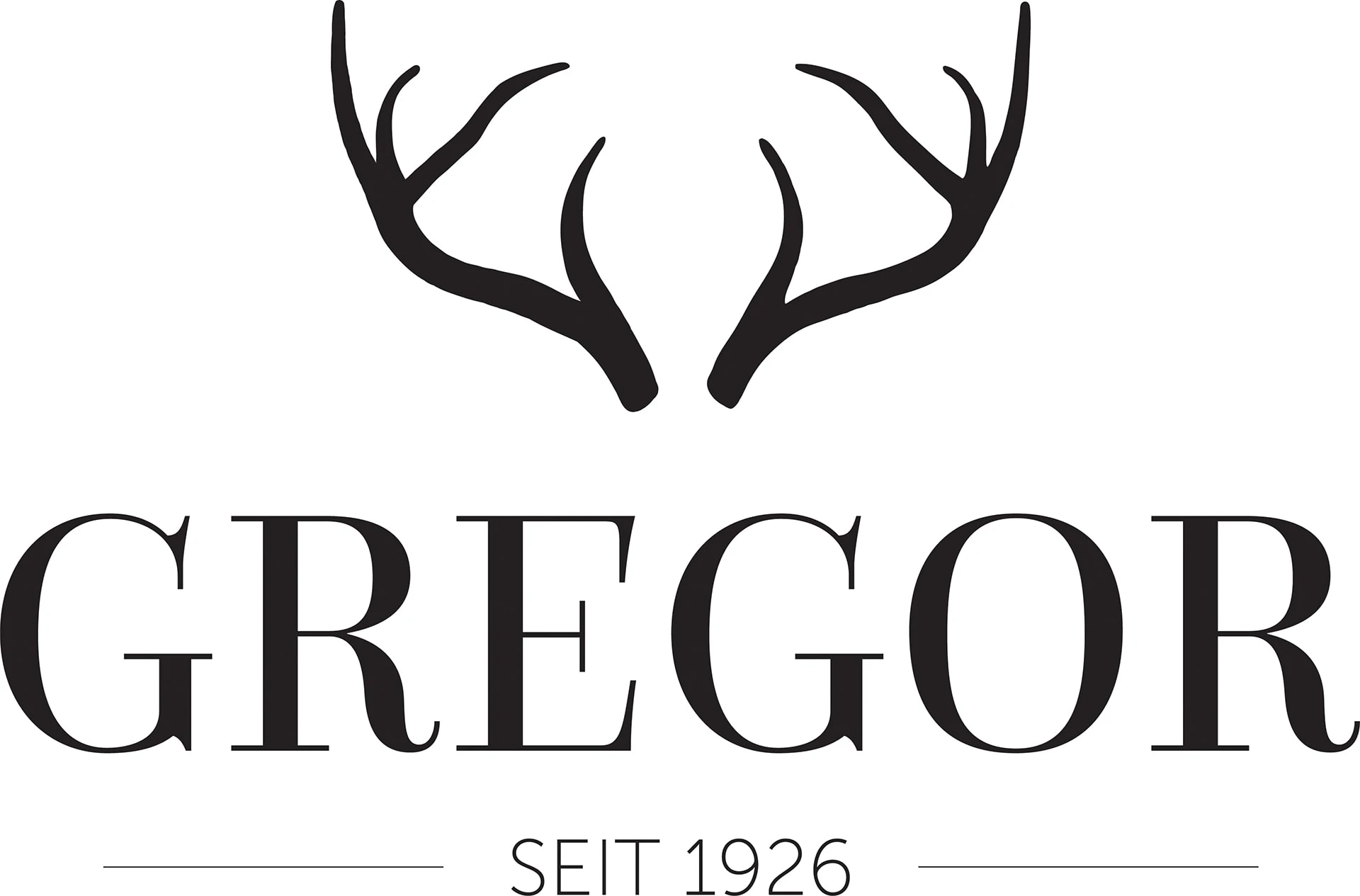 REGIONAL CUISINE MEETS REFINED CULINARY ARTS
perfect for your yoga vacation in Bavaria
There is nothing better than starting the day with yoga followed by a rich and balanced breakfast. And after a day filled with yoga, meditation, wellness & mantra chanting, end it with a delicious dinner. Spoil your palate with delicious food. Juicy organic fruit from our own cultivation. Here at KUNZMANN'S yoga hotel Bavaria you have the choice: tenderest meat from the game from the hotel's own hunting ground, the tasty Rhön trout
or pure Ayurvedic nutrition. These are just a few basics for a variety of hearty dishes in the restaurant GREGOR | 1926 of our wellness and yoga hotel.
Our top cuisine, combined with outstanding service and a cozy and modern atmosphere, will make your vacation in our yoga hotel Bavaria the purest treat for the palate.
Regional, seasonal, with own game,
vegan or ayurvedic
Relaxing at
Kunzmann's Spa
Treat yourself to a massage or refreshing application after a successful day of yoga in Lower Franconia. In our KUNZMANN'S wellness and yoga hotel in Bavaria, our spa area on over 1.000m2 is at your disposal. Train your fitness in the indoor pool with counter-current system, promote your blood circulation in the whirlpool or get your immune system going again with the soothing hot air of our sauna area.
Do you prefer to continue being in a quiet environment after yoga? Then simply reserve an exclusive lounger in our cozy warm fireplace lounge and relax to the soothing flicker of the fireplace. We look forward to your visit to our yoga and wellness hotel Bavaria.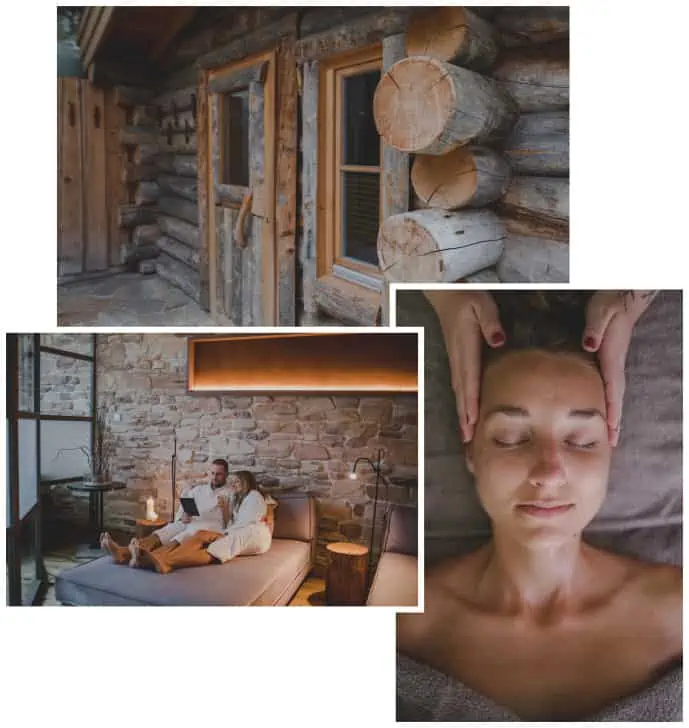 In addition to our yoga and wellness offer, you also have the unique opportunity to get to know medical Ayurveda during your vacation with us at KUNZMANN'S Hotel. This combination is unique in Bavaria.
Our  Indian Ayurveda doctors will be happy to take time for you in a detailed initial consultation. The therapy, which is tailored to you, is then applied by our trained Ayurveda therapists, who come from India, and is the perfect complement to a successful and relaxing yoga vacation in Bavaria.
Let your palate be pampered by the finest Ayurvedic cuisine during your yoga vacation at KUNZMANN'S wellness hotel.
Wellness and yoga hotel Bavaria
DETAILED ROOMS & SUITES AS A RETREAT
A good night's sleep is also part of a relaxing yoga vacation in Bavaria. In our high-quality rooms and suites, the love for nature and the region is always perceptible. Impressive by modern design and detail-loving furnishings, the rooms & suites of our wellness and yoga hotel offer the ideal retreat.
You will not find any city noise here. Instead, you can look forward to quiet nights in our wellness hotel in the middle of the Rhön during your short yoga vacation and also during longer stays.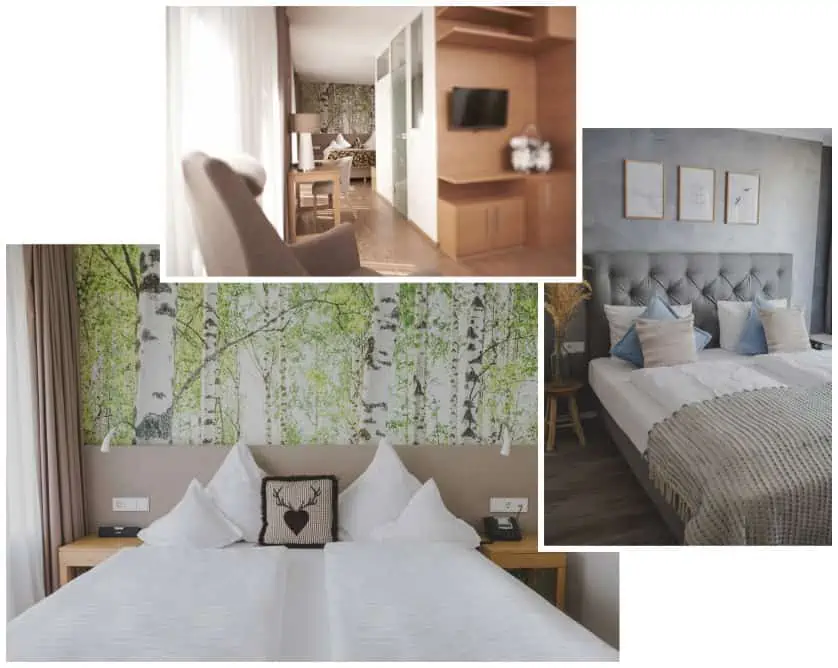 ...for your relaxed yoga vacation in Bavaria
There is much more here than "just" yoga
In addition to yoga, meditation & mantra chanting, there are numerous other activities available to you at our wellness and yoga hotel.
Are you a passionate golfer or do you prefer to get on your bike? Maybe hiking will really get your heart pumping? How about a glider flight over the beautiful Rhön in Bavaria? Or would you rather enjoy a few quiet hours fishing on the Franconian Saale? Nearby Bad Kissingen, with its many attractions, also invites you to enjoy some relaxing sightseeing. And while you're there, why not try your luck at the famous casino?
Our leisure offer leaves hardly anything to be desired. Whether Nordic walking on certified trails, cross-country skiing on optimally groomed trails, hiking with alpacas through a beautiful nature reserve in Bavaria - the Rhön - or a fun sleigh ride on the nearby toboggan runs. How about a trip to the red moor in the Hochröhn? The Franciscan monastery above Bischofsheim on the Kreuzberg awaits you with its own brewery and a cool Bavarian beer.
Don't hesitate for long and secure your yoga vacation in Bavaria at KUNZMANN'S Ayurveda and wellness hotel.
Whatever you would like to do during your vacation at the yoga hotel Bavaria - you are sure to find something here that you will enjoy and that will help you to leave everyday life behind for a moment and create a change from yoga.
Offers yoga hotel Bavaria
TWO NIGHTS
with a regional and vital breakfast buffet
+ TWO x 4-COURSE-DINNER MENU
+ FOOT MASSAGE WITH FOOT PEELING
approx. 20 minutes
THREE NIGHTS
with a regional and vital breakfast buffet
+ THREE x 4-COURSE-DINNER MENU
+ HOT STONE MASSAGE
approx. 20 Minuten
FIVE NIGHTS
with a regional and vital breakfast buffet
+ FIVE x 4-COURSE-DINNER MENU
+ HOT STONE MASSAGE
approx. 20 minutes

KunzMann's "Vorteilswelt"
Benefit from our exceptional bonus program
No obligations, but lots of amenities - and very exclusively: in our KUNZMANN'S Club, loyal members who book their overnight stay directly through KUNZMANN'S Hotel are rewarded with many specials:
AS OF THE 2ND DIRECT BOOKING
Become a member easily and for free
YOGA VACATION COMBINED WITH SPA & AYURVEDA AT KUNZMANN'S WELLNESS HOTEL BAVARIA
SPA & WELLNESS and YOGA HOTEL BAVARIA | YOGA VACATION and MEDITATION in the Rhön | Actively enjoying nature with YOGA in Franconia | GREGOR | 1926 - the Franconian restaurant in the Rhön | YOGA HOTEL Bavaria | Detailed ROOMS & SUITES as a retreat during a yoga SHORT VACATION | authentic Ayurveda medicine & yoga | Detox vacation & yoga | WELLNESS HOTEL with sauna, whirlpool, pool and spa treatments or as Day Spa | Yoga in BAVARIA | Active vacation | Romantic weekend in Bavaria combined with YOGA | Ayurveda hotel with YOGA | WELLNESS and yoga hotel Bavaria | YOGA in FRANCONIA