AT THE 4* KUNZMANN'S WELLNESS HOTEL IN BAD BOCKLET
Let us pamper you by choosing your favorite from our extensive selection of massages. In addition to facial and head massages, foot massages and peelings, we at KUNZMANN'S Ayurveda and wellness hotel in Bavaria are pleased to invite you to Detox and Balance massages, hot stone massages or aroma oil massages. Expectant mothers also get their money's worth with us. With an extra Baby Moon Massage we have also provided pure relaxation for pregnant women.
Treat yourself to a little time out with a soothing massage. When booking treatments over € 85 per person, the Day Spa worth € 35 is included from Monday to Friday.
This face or head massage in our KUNZMANN'S wellness and spa hotel in Bavaria has a calming effect on the vegetative nervous system and leads to absolute relaxation.

Strengthens the immune system, harmonizes the nervous system, promotes blood circulation
and has a relaxing and loosening effect.

EXCLUSIVELY FOR YOUR BACK
+ ROBUST: MASSAGE & PEELING
The salt grape seed peeling removes dead skin cells, effectively cleanses and smoothes. The subsequent massage with nourishing grape seed oil provides the skin with valuable fatty acids deep down. For a harmonious body feeling including velvety soft skin!

+ DETOX & BALANCE MASSAGE
Recharge your batteries with this unique combination of relaxation massage and body treatment. Feel refreshed and relaxed! Deeply relaxing anti-stress treatment with warming or cooling aromas and warm grape seeds.

How about a gentle massage during a wellness weekend at the wellness hotel in the Rhön? The warm oil on your skin and the gentle massage strokes lead to a particularly healing relaxation.

Traditional Hawaiian massage with fragrant oils and seaweed. It provides deep relaxation and can remove mental blockages. Attention is paid in particular to accepting and supporting the person being massaged with a wide open heart and loving hands, humility and mindfulness.

The Hot Stone Massage is based on ancient methods of Native American people who have always used the power of heated stones for their healing work. This massage invigorates the senses and relaxes the body and mind.

Our classic K's massage serves for local increase of blood circulation, lowering of blood pressure and pulse rate, relaxation of muscles, loosening of muscle adhesions, pain relief, influence on internal organs through reflex movements, psychological relaxation, reduction of stress, improvement of cell metabolism in tissues, relaxation of skin and connective tissues, influence on the vegetative nervous system.

PAMPERING PROGRAM FOR MAMAS-TO-BE
The whole body is massaged with gentle, mindful and calm grips. The soothing strokes stimulate the blood circulation and the lymphatic system and relieve tension. You rest comfortably in the lateral position.

EXCLUSIVELY FOR OUR GUESTS ONLY
+ KUNZMANN'S SIGNATURE TREATMENT
EXCLUSIVELY FOR OUR GUESTS ONLY
A warming and stimulating massage with exfoliating gloves prepares the body for the body massage. The skin is supplied with blood and circulation is stimulated.
BODY OIL MASSAGE WITH BODY PACK
The subsequent massage with nourishing grape seed oil supplies the skin with valuable fatty acids right down to the core. Feel refreshed during this deeply relaxing "anti-stress massage". Afterwards, we will pamper you with a nourishing and moisturizing body wrap.
FACE MASSAGE WITH RED WINE MASK
Fresh kick in the blink of an eye! Valuable grape seed extracts protect your skin from premature aging and smooth it. Afterwards, we pamper you with a gentle face and scalp massage. The mask that follows ensures a fresh, youthful complexion. In addition, grape stem cells and precious red wine extracts visibly refresh and tighten your skin.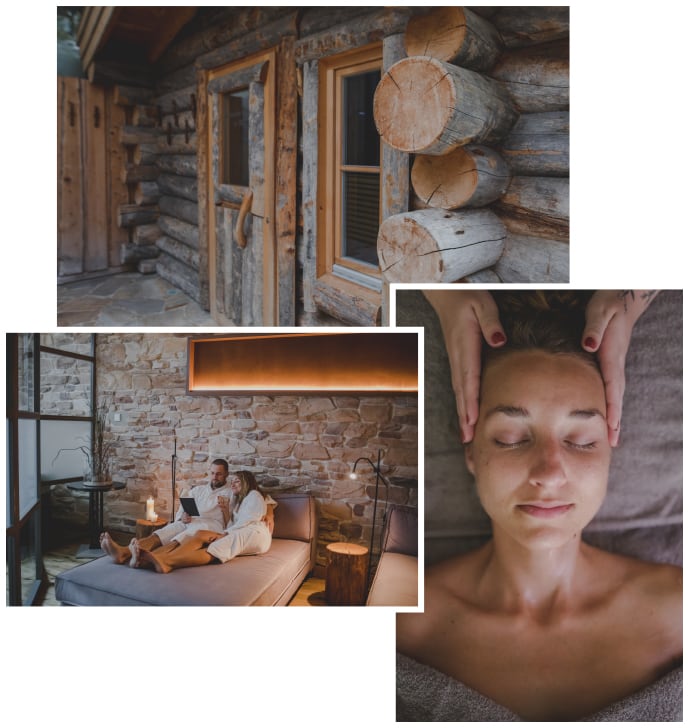 MASSAGE BAD KISSINGEN AT KUNZMANN'S WELLNESS HOTEL BAVARIA NEAR WÜRZBURG
SPA & WELLNESS HOTEL BAVARIA near WÜRZBURG | DAY SPA at KUNZMANN'S Hotel in the Rhön | Soothing SPA TREATMENTS in Bad Kissingen | MASSAGES, facial treatments and Private Spa | Moor packs | Hot Stone Massages, AROMA OIL Massages in the Rhön | Würzburg - SAUNA, infrared cabin & steam bath | Detailed ROOMS & SUITES as a retreat | Detox vacation near WÜRZBURG | RELAXATION MASSAGE | Foot massage | Massage & Peeling | DETOX & Balance Massage | LOMI LOMI NUI Massage | BABY MOON | WELLNESS HOTEL with sauna, whirlpool, pool and spa treatments or as Day Spa | Wellness vacation | Romantic weekend in Bavaria | WELLNESS and spa hotel Bavaria | Time out for two | Honeymoon at the SPA HOTEL in Franconia